When warm weather hits and the skies are scarce with clouds, seeing a concert in an open-air venue is a great way to expand your music loving, concert attending experience. Each venue has it's own unique and stunning characteristics that cause them to make names for themselves around the United States. Here we will highlight our top ten outdoor music venues, and since its so hard to pick favorites out of such an exquisite list, they will be in no particular order.
Nikon at Jones Beach Theater in Wantagh, New York
This is one of the two major outdoor arenas in the New York metropolitan area. The theater's original design featured a moat with the stage situated on Zach's Bay. Performers were brought to the stage by boat and some of the scenes during performances had floating scenery. After renovations in 1991, an expansion in 1998, and rehabilitation after Hurricane Sandy in 2012,  it's capacity went from 11,200 to 15,000.
See events coming to this venue
Crosby Theater in Santa Fe, New Mexico
Named for it's founder John Crosby, this is one of the only outdoor theaters in America exclusively designed for Opera. Although the theater can seat 2, 128 guests, it has an extremely intimate feel. The sides remains open, while a curved roof offers protection from the sky. Here you will have the unique experience and comfort you would expect from an Opera,  combined with the feel you would get from being in an outdoor Amphitheater.
See events coming to this venue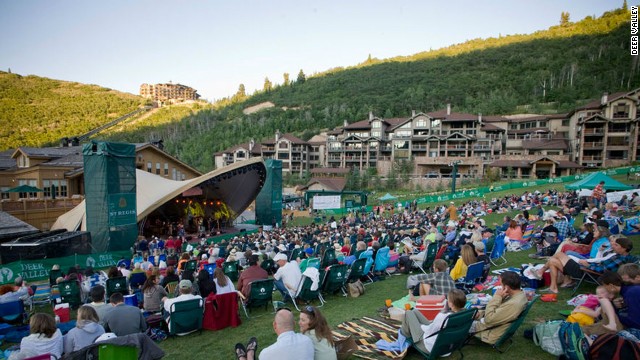 Snow Park Outdoor Amphitheater in Park City, Utah
Located at Deer Valley Ski Resort which is known for it's upscale amenities, Snow Park Outdoor Amphitheater often has a calendar full of shows performing multiple times a week to keep your summer days filled with excitement. World- renowned artists, local bands and headlining musicians regularly take the stage during Utah Symphony – Utah Opera's Deer Valley Music Festival.
See events coming to this venue
Alpine Valley Music Theater in Elkhorn, Wisconsin
This seasonal venue was built in 1977 and features a characteristic wooden roof covering the 7,500 seat pavilion with sprawling lawns and a capacity of 37,000. Until 1993 when the San Manuel Amphitheater was built in California, it was the largest amphitheater in the United States. Many festivals, such as H.O.R.D.E Festival, Monsters of Rock Festival, Projekt Revolution, and the World Series of Rock Festival have taken place at this amphitheater.
See events coming to this venue
Hollywood Bowl in Los Angeles, California
The "Bowl" in Hollywood Bowl refers to the shape of the concave hillside the amphitheater is carved into. The bowl is owned by the county of Los Angeles and is the home of the Hollywood Bowl Orchestra, the summer home of the Los Angeles Philharmonic and hundreds of other musical events each year. The shell is set against the backdrop of the Hollywood Hills with the famous Hollywood Sign visible in the distance.
See events coming to this venue
Jay Pritzker Pavilion in Chicago, Illinois
This venue serves as the centerpiece for Millennium Park and is the home of the Grant Park Symphony Orchestra and Chorus and the Grant Park Music Festival, the nation's only remaining free outdoor classical music series. The pavilion has a capacity of 11,000 and is Grant Park's small event outdoor performing arts venue that compliments the park's older and larger bandshell, Petrillo Music Shell. Because of building restrictions, the city classifies Jay Pritzker Pavilion's bandshell as a work of art rather than a building.
See events coming to this venue
The Greek Theatre in Los Angeles, California
The idea for a greek theatre originated with a wealthy landowner, who donated 3,000 acres of land to the city of Los Angeles to create what became Griffith Park, and left money in his will for the constructions of a Greek Theatre. During its first decades the theater was used as barracks during World War II but it wasn't until the late 1940's when touring shows were brought to the venue. The Greek Theatre won the best Small Outdoor Venue award seven times in the past eight years, awarded by Pollstar Magazine.
See events coming to this venue
The Gorge Amphitheater in George, Washington
Opened in 1985, The Gorge offers sweeping and majestic views of the Columbia River as it skirts the foothills of the Cascade Range. It is also know for the spectacular views of the Columbia Gorge canyon. The land was originally planned to grow grapes for wine. The Gorge has played host to many popular music festivals, such as Lollapalooza, Vans Warped Tour, Paradiso Festival, Rock the Bells festival, Sasquatch! Music Festival, Watershed Festival and many others.
See events coming to this venue
The Mountain Winery in Saratoga, California
The Mountain Winery not only hosts concerts but weddings, corporate meetings, dinner parties, and holiday parties. Remarkable Vistas with redwood groves and landscaped gardens encircle the terrace, resulting in an exquisite outdoor venue. The historic winery building decorated with ivy creates an old world, dramatic blackdrop that ensures an intimate setting and exceptional experience for star performers and guests alike.
See events coming to this venue
Red Rocks Amphitheater in Morrison, Colorado
Red Rocks Amphitheater is a rock structure where concerts are given in the open-air. There is a large, disc-shaped rock behind the stage, a huge vertical rock angled outwards from stage right, and several large outcrops angled outward from stage left. Geologically, the rocks surrounding the Amphitheater are representative of the Fountain Formation. Originally the place was known as the "Garden of the Angels" and then the "Garden of the Titans" between 1906-1928.
See events coming to this venue
We know that there may be lot of favorites left out and it was hard for us to choose just ten out of so many great places. All venues are intriguing and endearing in their own ways and we are hoping that by putting these here we have enthused you enough to visit and appreciate the atmosphere that each of these beautiful venues present and of those we did not mention. Which ones have you been to? Which ones are your favorites? Keep a look out of for more top 10's and the Best of Entertainment in the future!
Please follow and like us: