The Coachella Valley Music and Arts Festival has made a name for itself as the premiere US music festival. Tens of thousands of fans flock to the Indio Valley in Southern California for two weekends packed with a multitude of eclectic big name musicians. But every year tickets sell out faster than the previous year,  SO…
Here are our tips to helping you get tickets.
**Tickets go on sale TODAY at 11 AM PST! Don't miss this chance to get tickets!**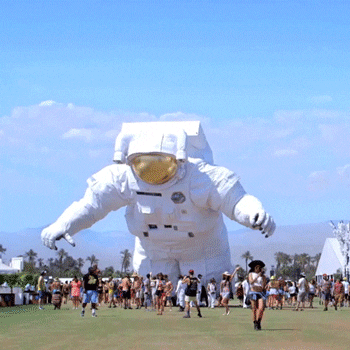 (The metaphor: Space person is you, the people are tickets, and you're just trying to snag some.)
The key is knowing when they go onsale.
Coachella passes are usually available for presale, or Advance Sale, in May a few days after the dates of the event are announced. The general onsale is usually in January of the following year, a few days after the lineup is announced.
| | | |
| --- | --- | --- |
| Year | Date of Advance Sale | Date of General Onsale |
| Coachella 2017 | June 8th 2016 | January 6th 2017 |
| Coachella 2016 | June 4th 2015 | January 8, 2016 |
| Coachella 2015 | May 16, 2014 | January 7, 2015 |
| Coachella 2014 | May 24, 2013 | January 10, 2014 |
The onsale and lineup announcements are usually well publicized through Huffington Post, Rolling Stone, and any other entertainment website.  But we would recommend joining the Coachella mailing list so you can't miss their announcements. You can sign up here.
 And some other things to keep in mind…
Coachella sells tickets through frontgate.com, and if you create a Frontgate account, your checkout process will be faster. You'll be just one click of a button away from actually having tickets.
Think about the logistics of your trip before the onsale date. When buying your tickets, you can purchase the camping, parking, and shuttle bus passes too. You will not be able to purchase them separately through Frontgate. Be ready to check those out during your initial ticket purchase.

Coachella is expensive! To help you out, they actually have a payment plan during the advance sale (but ONLY the advance sale!). 20% of your total price is due at checkout, and then they allow you up to six monthly payments.

If you took our advice and made it to Coachella.com for the onsale, you will be placed in a virtual waiting room before you are selected to buy tickets. We suggest opening Coachella.com on multiple browsers (2-5) to better your odds of getting tickets.

 Coachella has a guidebook for pretty much any detail you'd want to know about concerning the festival. If you want to know more about the festival, or about purchasing tickets then you can read them for yourself here.
Still have questions or concerns?  Feel free to email us at contact@ticketcrusader.com, and we'll see how else we can help!
Please submit your comment / request below
comments